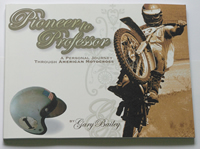 By Gary Bailey. With the help of his fifth wife, Diana, the Professor has self-published a very personal account of his life on dirt bikes. The 100-page softcover book is basic in its approach, with Gary just telling it like he was having a chat with you at the dining room table. There's more than enough of interest though on every page to make you want to just keep on flipping through, chapter after chapter. Starting with some tales of his grandparents riding across the desert in an outfit in the early 1900s, through his early racing days, racing against the Europeans, his riding schools, track building……even tales of his wheelie contests against Doug Domokos, this book has some great yarns. It is indeed a journey through the history of motocross in America, as Gary was there at the start and for no other reason than his position as track designer at the Daytona Supercross event for an astounding thirty-four years, he sure was involved in the sport for a helluva long time.
As always with books chronicling history, the photos can make or break the success of the publication. Gary's book has enough to accompany the material in each of the twenty-three chapters but there could have been more, if only Gary had them…..but maybe it's a bit like his trophies. You see, he didn't keep most of his trophies either, at least in the early days. Some years, as an amateur, he won over five hundred trophies in a single year, but sold most of them back to the promoter for a few bucks each, so he could afford to keep racing and travelling.
Prices are in Australian currency and approximately:
US/CAN 45.00 USD | UK 30.00 GBP | Asia 45.00 USD | New Zealand 55 NZD | Europe 34.00 Euro | Rest of the World 55 AUD
Shipping is included in price.  10% GST is included in purchases destined for Australia.