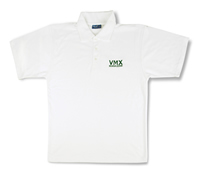 Sometimes you just have to wear a shirt with a collar, and on those special occasions (weddings, meeting the Queen/President/Prime Minister, accepting a Nobel Prize and so on) you don't have to look boring. You can wear a VMX polo shirt!
Available in lots of sizes and just one colour – white. What more could you want in a polo shirt? Casual yet full of class, why don't you complete your wardrobe and buy one today.
Prices are in Australian currency and approximately:
US/CAN 32 USD | UK 21.75 GBP | Asia 30 USD | New Zealand 45 NZD | Europe 25.50 Euro | Rest of the World 34.50 AUD
Shipping is included in price.  10% GST is included in purchases destined for Australia.